Übersetzung verfügbar:
zur deutschen Version wechseln
Javascript disabled - for optimised page display please activate in browser settings!
Current Dates:
Friday, 3/2/2018, 01:15 PM - Juma Prayer
Thursday, 3/1/2018, 08:45 PM - Weekly Dhikr
Big Dhikr
Donations account changed
Renovating the Sufi-Center
The Sufi-Center in TV
No english translation available for this topic so far. German text displayed instead!
24.02.2018
-
Die erste Etappe des Ausbaus der Scheune an der Rasenmühle in Kassel in der Woche vom 12 bis zum 18. Februar wurde erfolgreich beendet. Geplant ist der Ausbau der Scheune zur kompletten Dergah mit Moschee, Frauenbereich und Waschräumen bis zum Sommer diesen Jahres. Durchgeführt wurden die Arbeiten unter Aufsicht von unserem Zimmermannsmeister Qasim Wentzel und dem Hausherrn Ahmadullah mit Hilfe vieler tatkräftiger, ehrenamtlicher Helfer aus Freiburg, der Eifel und Bielefeld
Wenn man den Erfolg des Projekts am sichtbarem Ergebnis messen möchte, so kann man ein positives Resume ziehen: Alle geplanten Arbeiten, namentlich Dämmung und Schallschutz des Dachs sowie der Wechsel aller Dachfenster, wurden zeitgemäß und mit deutscher Gründlichkeit erledigt.
Misst man ihn an der Zufriedheit der Beteiligten ehrenamtlichen Planer, Helfer und Unterstützer, sieht es noch besser aus. Die Stimmung im Team war gehoben und aller harten Arbeit zum Trotz blieb ausreichend Zeit zum Entspannen. Unter prächtigem, winterlich-blauen Himmelszelt lud die schöne Natur Nordhessens ein zu ausgedehnten Spaziergängen, nach denen man sich in den gemütlichen Wohnräumen des Haupthauses aufwärmen und an der guten Gesellschaft erfreuen konnte. Für beste Verpflegung wurde gesorgt durch den Gastgeber Ahmadullah und die Frauen und Schwestern, ohne deren mit Liebe zubereiteten Speisen sicherlich kein Balken gehoben worden wäre, und kein Nagel gesetzt.
Wenn man jedoch den spirituellen Erfolg als Maßstab des Erfolgs der Arbeiten ansetzt, so versagen alle unsere Bewertungskriterien. Aber gemäß den Worten unseres Meisters Scheikh Nazim ist der Dienst in einer Dergah mit unermesslichen Segnungen verbunden, und der Prophet
sagt in einer gesicherten Überlieferung:
"Wer um Allahs Willen eine Moschee baut, dem wird Allah ein Haus im Paradies bauen lassen." (Sahih al-Bukhari and Sahih Muslim)
So wie die Strahlen der Sonne die Erde erreichen, so blitzen himmlische Segnungen teilweise auch im Diesseits kurz auf. Zum Abschluss der Arbeitswoche hat unser geehrter Scheikh Hassan die Rasenmühle am Sonntag besucht und ein Maulid mit Abu Nur und Ustad Daud Khan veranstaltet (zum Video). In Versenkung der wunderschönen Lobpreisungen unseres Propheten
konnten die Anwesenden Raum und Zeit vergessen und ihre Herzen öffen um Wogen von Licht, Liebe und Schönheit zu empfangen.
Bereits in einer Woche geht's in die nächste Runde. Dann steht unter anderem die Dämmung und Verkleidung der Decke des unteren Raums sowie die Verkabelung und elektrische Installationen auf dem Plan. Jede Unterstützung ist willkommen, sei es in Form von Arbeitskraft, der Bereitstellung von Hilfsmitteln oder in Form von Spenden.
Denn nicht nur der Ausbau der Scheune muss finanziert werden, sondern vor allem auch der geplante Kauf der Rasenmühle. Informationen hierzu gibt es auf unserer Spendenseite.
Current Dates
Friday, 3/2/2018, 01:15 PM
Juma Prayer
Due to the end of Summertime, the Juma will proceed one hour earlier as of now.
Hadra | Friday prayer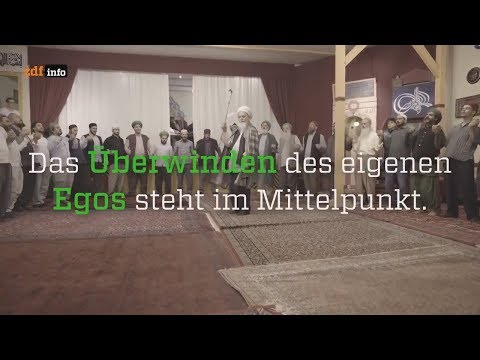 ZDF info - Sufis in Deutschland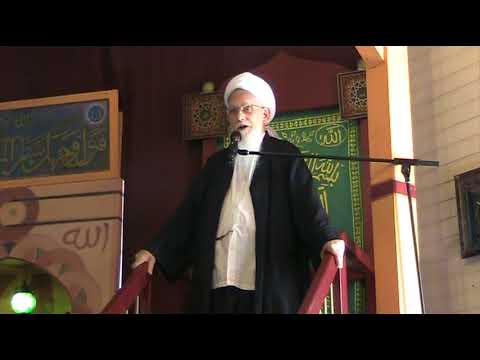 Khutba Eid al-Adha 2017 Sheikh Hassan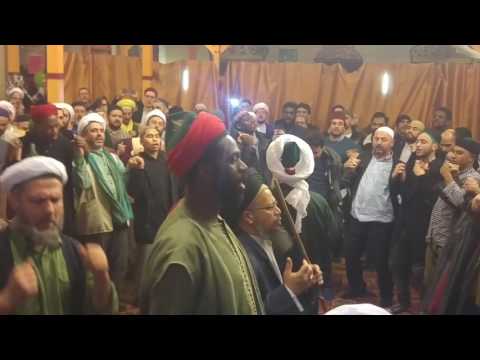 Hadra mit Scheikh Muhammad Adil, März 2017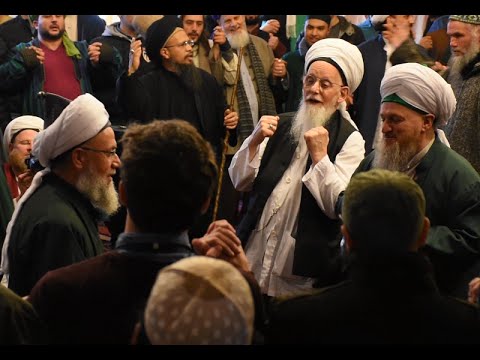 Hadra mit Scheikh Muhammad Adil, März 2016